New interpreters to secure the international future of Danish
The first group of students have just started on the new professional Master's degree programme in conference interpreting at Aarhus University. They are to secure the future of the Danish language in the EU and in other international contexts.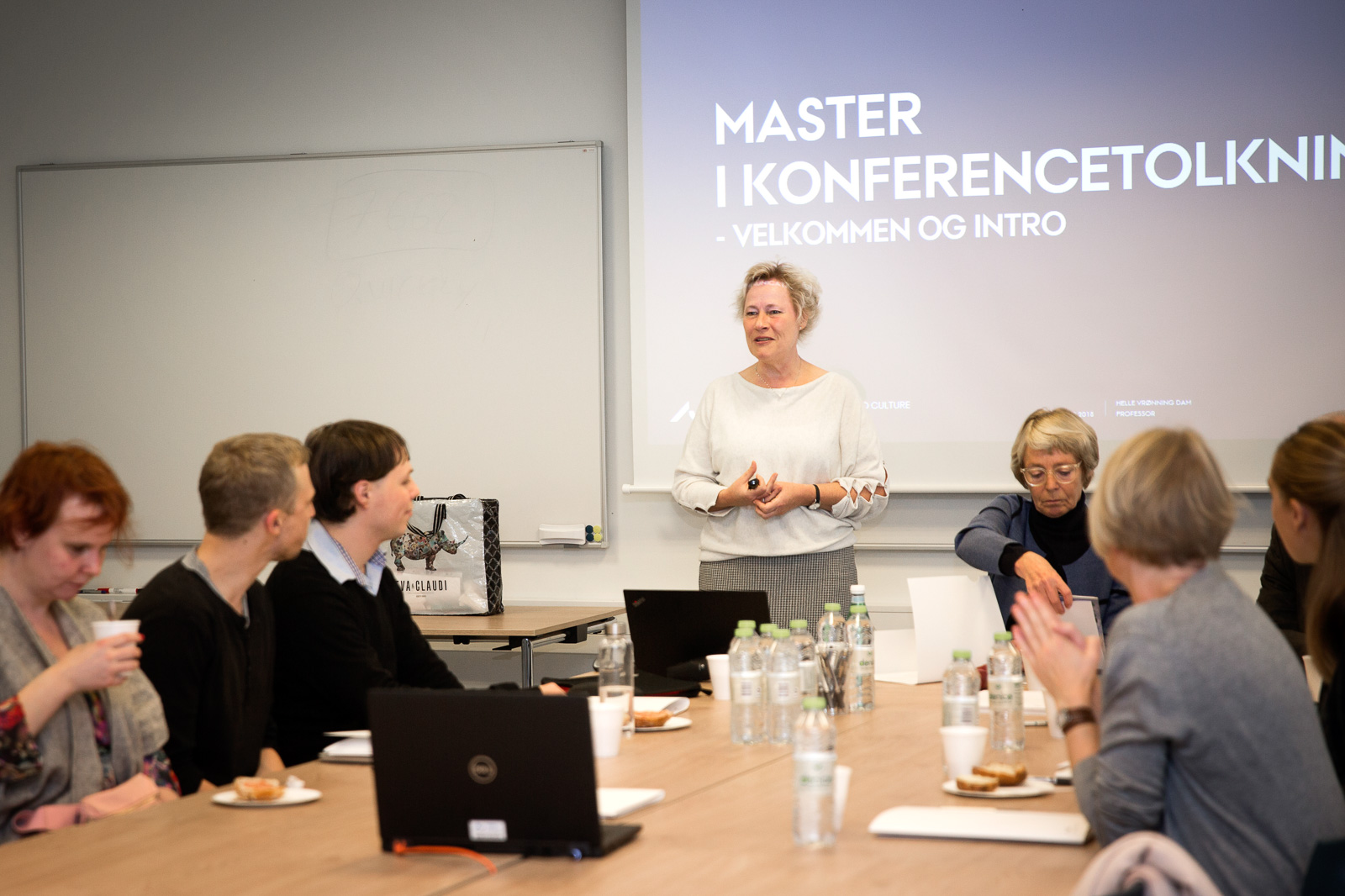 It can be difficult to convince a whole generation that foreign languages (other than English) are important to preserve. There seems to be more at stake, however, when it comes to preserving the Danish language. But they are actually two sides of the same coin. If we do not train the next generation of conference interpreters in a number of foreign languages, it will no longer be possible for Danish politicians in the EU to hear Danish in their headsets.
It was therefore with great pleasure that the School of Communication and Culture at Aarhus University was able to welcome seven new students with a talent for languages to the only degree programme in conference interpreting in Denmark.
"I hope that you can sense how much I've been looking forward to this day. You are a small select group, and you are also pioneers of a national strategy that's attracting great attention at Aarhus University, in Denmark and not least in the EU, because you are to help secure the future of Danish in the EU", said Professor Helle Vrønning Dam, who is the initiator of the prestigious degree programme. And with a twinkle in her eye, she added: "Can you feel the weight on your shoulders?"
An exclusive degree programme
It requires incredibly strong language skills to be an interpreter. Seven out of the 30 applicants passed the demanding admission exam in spring and can now look forward to an intensive year with 45 hours of lessons and practical training a week in the newly established interpreting booths. The degree programme is taught by professional interpreters who have been recruited from far and wide.
"It's amazing that we've been able to gather this group of incredibly competent teachers. They are all interpreters either from the private sector or from the institutional labour market where many of them have had a long international career in the European Parliament or the European Commission. This means that we have teachers from Brussels, Hamburg, Copenhagen and Odense," said Professor Helle Vrønning Dam.
Kirsten Feldthaus, who has had a long career as an interpreter at the European Parliament, is one of the people who have accepted the invitation to leave Brussels for a year to teach on the professional Master's degree programme.
"For 35 years, I've had an exciting, rewarding and interesting job filled with challenges, and I've really enjoyed it. There's currently a significant lack of Danish interpreters at the EU institutions, and I consider it a privilege to be able to help new, young colleagues on their way to a career as an interpreter."
The students are also willing to travel long distances to get a place on the new professional Master's degree programme. Elizabeth Nicola May is one of the applicants who has been admitted to the programme. She lives in Luxembourg with her husband and their son, and she participated in the welcome event via Skype.
"I've been working as a lawyer-linguist for the Court of Justice of the European Union for the past five years, translating rulings from French into Danish. I had the opportunity to participate in some of the hearings with Danish interpreters, and it was truly fascinating to listen to them in the Court's booth interpreting legal French into Danish at lightning speed. So I hope to be able to use the programme to work as a conference interpreter for the Court of Justice, because it's incredibly exciting to be in the courtroom and contribute to the many important cases in your own way."
Part of a larger language initiative
The professional Master's degree programme in conference interpreting is a part of a larger language initiative at Aarhus University. Under the slogan "Study languages in Aarhus", Aarhus University is leading the way in the fight to maintain the language degree programmes at the universities.
Since 2005, half of the language degree programmes in Denmark have been shut down. Last year, a national language strategy was launched in which Aarhus University and the University of Copenhagen were responsible for working together with high schools and university colleges etc. Aarhus University has recently opened the new National Centre for Foreign Languages (West), which has departments both at the University of Copenhagen and at Aarhus University. Furthermore, in 2017, all the language programmes at Aarhus University were gathered at one faculty, as the business communication programmes moved from Aarhus BSS to the Faculty of Arts. This means that the language research environment at the School of Communication and Culture at Aarhus University is one of the largest and strongest in Northern Europe.
"Even before the national language initiative was introduced, Aarhus University decided to strengthen research and education in foreign languages. Interpreting and translation are a crucial and culture-bearing part of the national language policy of any country. Therefore, we're pleased that we, as part of our language initiative, can now also say that we offer the only degree programme in conference interpreting in Denmark," said Dean Johnny Laursen.
The conference interpreting degree programme will be offered every three years. Read more about the professional Master's degree programme in conference interpreting (in Danish only).
---
Contact information:
For questions regarding the general language initiative at Aarhus University:
Dean Johnny Laursen
Mobile: +45 2029 4180
Email: dekan.arts@au.dk
For questions regarding the degree programme in conference interpreting:
Professor Helle Vrønning Dam
Telephone: + 45 8716 4852
Email: hd@cc.au.dk