Students designing the digital payment systems of the future
Students of digital design from Aarhus University presented a panel of developers from Danske Bank with their ideas about the digital payment systems of the future and how the Danes perceive money. Increasing digitalisation means that our banks need new skills to rethink the payment systems of the future.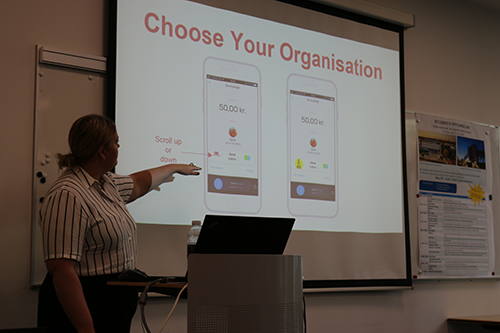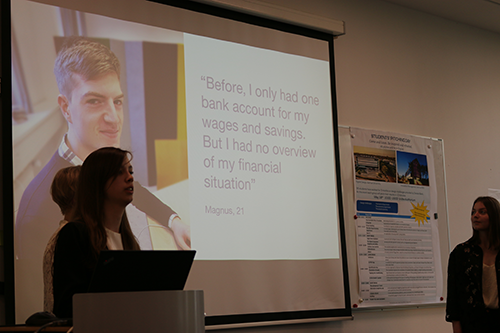 How will we pay for things in the future? Will we use our cell phones, our jewellery, our watches, or something else entirely? How do people perceive money, and how can we improve the way they feel about money? How can we teach our children the value of money when they never see any actual notes and coins? What about young people who have a credit card but no clear idea of their financial situation? What kind of social phenomenon lies behind car sharing schemes, and what are the implications of such schemes for banks that help people to buy cars by lending them money?
The development department at Danske Bank joined forces with teachers of digital design at Aarhus University to pose fourth-semester students design challenges in three different categories: payment systems of the future, people's perception of their financial situation, and social economics. On conclusion of their projects, the students faced a panel at Danske Bank and were given six minutes to pitch their presentation – followed by three minutes of feedback.
Banking sector needs new skills
Students of digital design at Aarhus University are used to collaborating with private companies. The fourth semester always includes a case and some kind of partnership with a company. But this time it's a bank they're working with – which is pretty unusual. Increasing digitalisation means new job opportunities. We asked the bank, one of the teachers and one of the students involved to identify the skills and insights that students of digital design can offer the finance sector, and what the parties involved can gain from such partnerships.
THE BANK:
Jeppe Thastum works for the development department at Danske Bank and was one of the initiators of the partnership. He has also visited the students several times during the semester.
"Students of digital design know how to design an interesting user interface that can present financial information in a more appealing and relevant manner. We want the students to give us their suggestions about how to present financial information to young people in an interesting way. What kind of technology should we be using?"
Senior Development Manager Simon Ormholt Schrøder adds:
"We focus a great deal on customer and user inclusion, and as banks we need to work more closely with other people and develop beneficial partnerships. So consulting students of digital design is an obvious step to take. For instance, today we've been shown prototypes of physical digital systems. This could be useful, because when things become digital they also become invisible. None of our staff have the skills to design physical objects, so this is the kind of inspiration we need."
THE STUDENT:
"Our degree programme focuses a good deal on including users and identifying their needs, and then on designing something to meet these needs. This is exactly what Danske Bank is interested in. We approach their target group directly – we're in touch with the users and their needs. We observe, conduct interviews, and then design systems depending on what we learn. And we test things along the way as well," explains Simone Boye Mouritsen. Today she's presenting the project: Save It by CASH, which examines the way young people save money.
THE TEACHER:
"Students of digital design learn about design as a research practice. Design is a way of exploring things and creating knowledge about the world. One of the advantages of this kind of partnership for Danske Bank is that the students examine a range of phenomena such as how people make payments, how they handle their private finances, and what kinds of challenges they face.
It's useful for the students because they do a real project they can put on their CVs, but it's also an important part of their training. They learn to challenge themselves and to follow a design practice in real life. Which will be a big advantage when they start writing their Bachelor's project in the near future," explains associate professor Mikkel Ask.
To confirm the partnership with the students, the day ended with an introduction to Danske Bank's Talentbox. If the students fancy even more practical design work, Danske Bank offers them the chance to work with a supporter to identify a challenge they would like to address in their Bachelor's project or Master's thesis.