Authoring Slavery: Blind Spots Exhibition and Seminar
Seminar held in connection with the exhibition Blind Spots at the Museum of Science and Technology, Accra, Ghana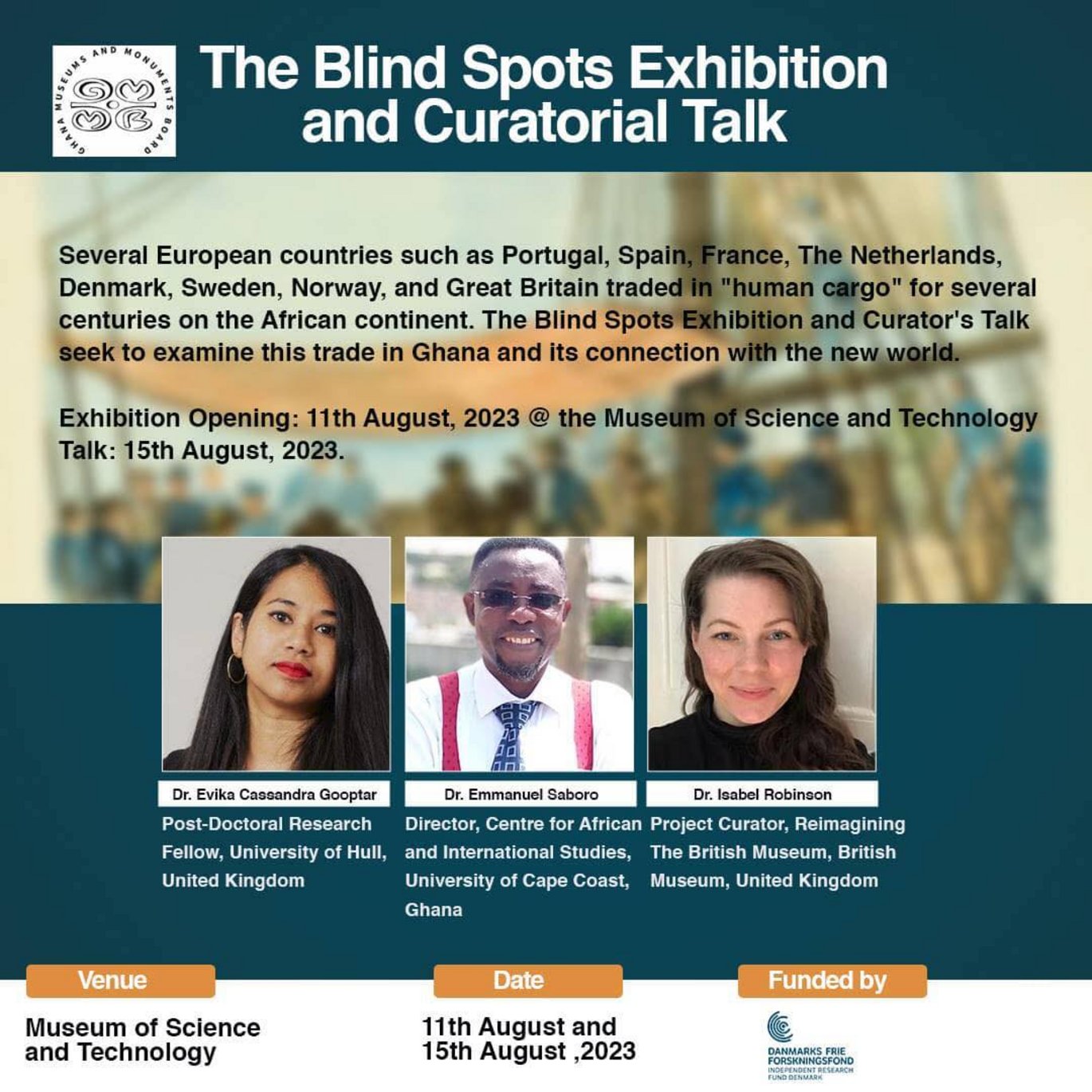 Info about event
Time
Tuesday 15 August 2023,
at 10:00 - 14:48
Location
Museum of Science and Technology, Accra, Ghana
Organizer
School of Communication and Culture
Program
August 15, Tuesday
9:30pm: Arrival of guests
10.00am: Opening and acknowledgement of invited guests: by William Nsuiban Gmayi
10:10am: Opening Remarks: Prof Mads Anders Baggesgaard
10:20am: Invocations, a recorded poem written by Kofi Anyidoho (Published in The Place We Call Home & Other Poems). Performed by the Poet, Abdul Moomen, Nana Asaase & Osei Korankye on Seprewa). Brief Introductory Statement by Kofi Anyidoho (Poet, Prof. of Literature, English Dep., University of Ghana-Legon)
10:20am – Presentation by Dr. Cassandra Gooptar: Legacies of Enslavement Restorative Justice
project,
10:40am – Presentation by Dr. Isabel Robinson: The critical blind spots in the study of slavery
11:05am – Presentation by Dr. Emmanuel Saboro: The "Donkor" Other: Ethno-Racial Difference, the Legacy of Slavery and Colonial Effects in Ghana
11:25am – Q&A
12:30pm Closing
Organization of conference
The Exhibition and seminar is organized within the framework of a larger research project with the title Authoring Slavery, hosted by Aarhus University Denmark (PI. Mads Anders Baggesgaard). This collective research project with participation of researchers from Denmark and Ghana engages with imprints of the complex history of slavery in Ghana, https://cc.au.dk/en/centre-for-the-study-of-the-literatures-and-cultures-of-slavery.
William Nsuiban Gmayi, Head of Communication, GMMB and Interdisciplinary PhD Research Fellow, Global Heritage Laboratory, University of Bonn, Germany.
The research project, the exhibition and the seminar are supported by the Independent Research Fund, Denmark.