Authoring Human Rights in West Africa and Beyond. Expressions of Slaveries in Literature (Texts) and the Arts (visual)
International conference on narratives on slavery and human rights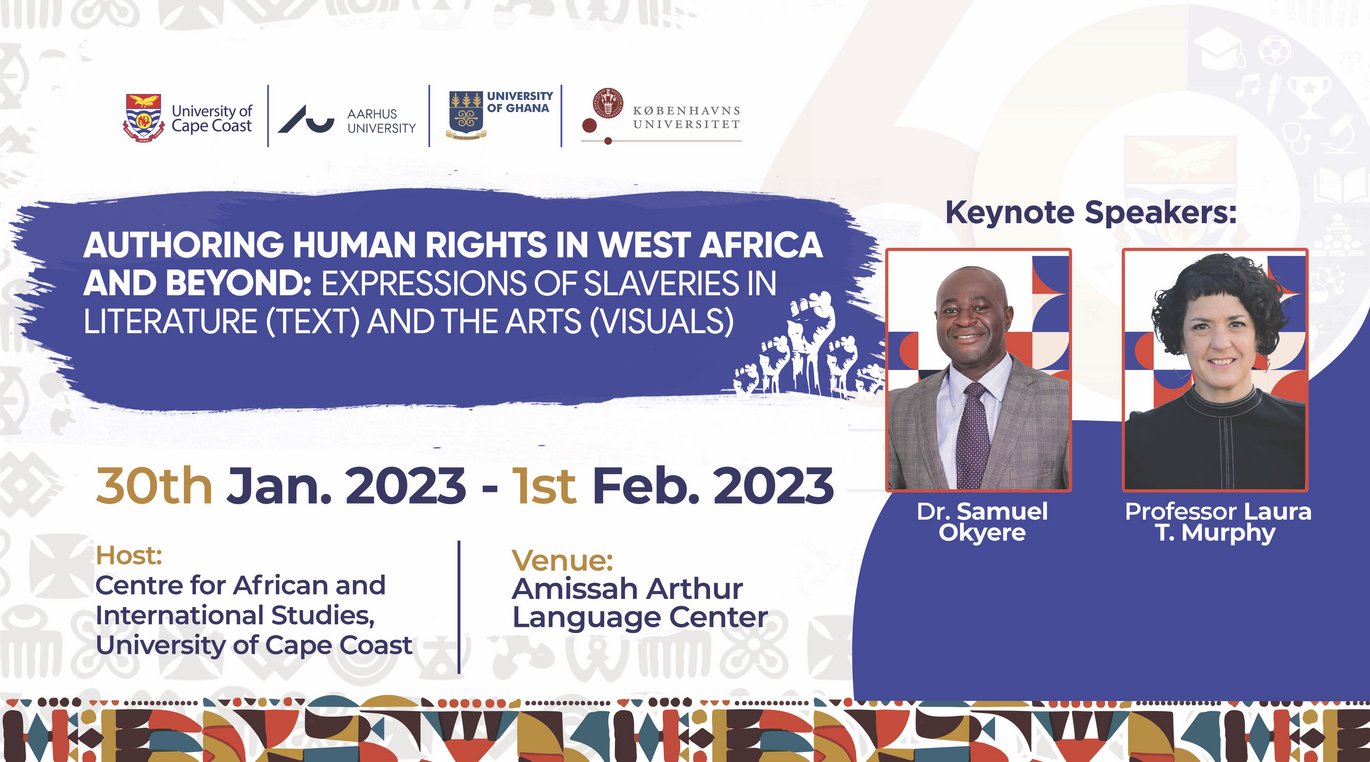 Info about event
Time
Monday
30

January 2023,

at 14:51
- Wednesday
1

February 2023,

at 14:53
Location
Cape Coast University, Ghana
Organizer
School of Communication and Culture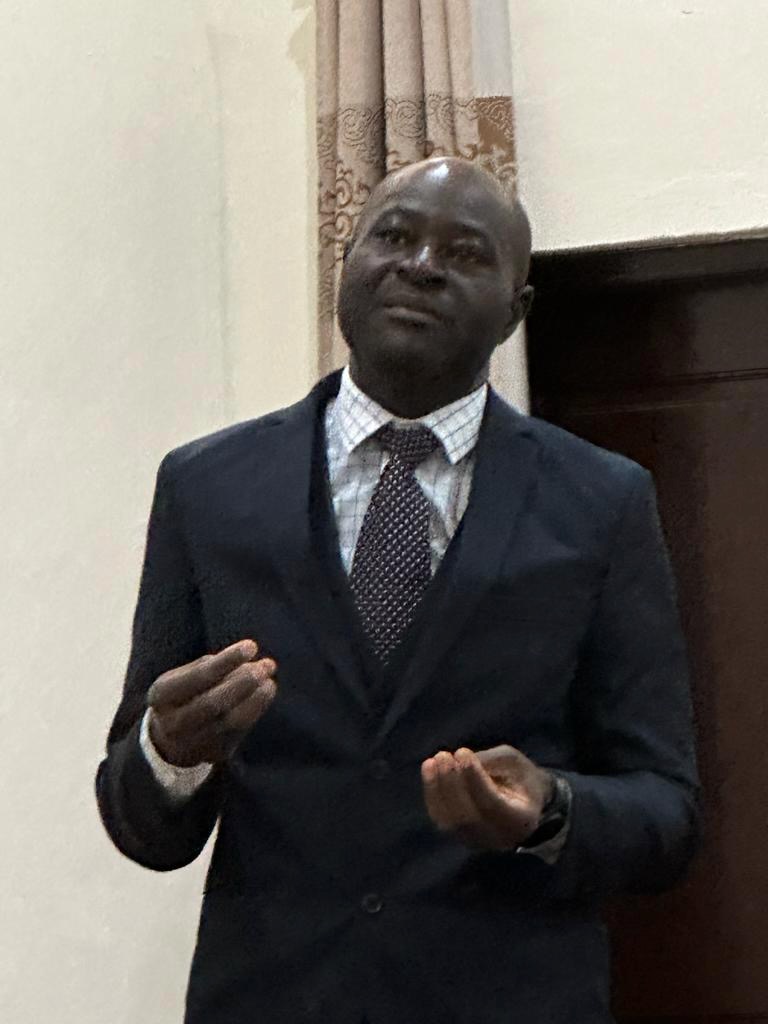 January 30, Monday
8.00-9.00: Morning coffee and registration
9.00-9.30: Opening talk and welcome, by Emmanuel Saboro, Lotte Pelckmans and Karen-Margrethe Simonsen
9.30-10.00: Invocation: "Ancestral Roll Call" [Video]
(Dramatization of a recorded poem written by Kofi Anyidoho (Published in The Place We Call Home
& Other Poems). Performed by the Poet, Abdul Moomen, Nana Asaase & Osei Korankye on Seprewa)
Brief Introductory Statement by Kofi Anyidoho (Poet, Prof. of Literature, English Dep., University of Ghana-Legon)
Questions & Comments by Audience
Chair: Emmanuel Saboro
10.00-10.15: Break
10.15-11. 45: Keynote Laura Murphy (Professor of Human Rights and Contemporary Slavery at the Helena Kennedy Centre for International Justice at Sheffield Hallam University, UK).
"The Uses and Abuses of Survivor Testimony"
Chair: Mads Anders Baggesgaard
11.15-11.45: Break
11.45-13.15: Session 1: Slavery: Metaphors, Narratives and Media
Chair: Karen-Margrethe Simonsen
Malik Ade (Germany): "The Thin Line Between: Child Marriage and Child Labour as Metaphors of Slavery in Abi Dare's The Girl With the Louding Voice"
Kwabena Opoku-Agyemang (Ghana): "Dark clouds grumbling overhead meant today was going to be a bad day": Marginalization and Servitude in Ghanaian Digital Spaces"
Mads Anders Baggesgaard (Denmark): Human Rights and Melodrama in Movies
13.15-14.15: Lunch
14.15-15.45: Session 2: Afterlives of Slavery and New Humanitarianism
Chair: Anne Green Munk
Dominic Rainsford (Denmark): "Ethical Literary Criticism and Slaveries of the Past and Present: Blake, Opie, and the Engaged Humanities"
Samuel Ato Bentum (Ghana): "F(l)ight as traumatic surviving strateg(y)ies in Moussa Toure's La Pirogue and Ike Nnaebue's No U-Turn"
Philomena Mintah (Ghana): "Censorship or Forgotten? A Study of the Treatment of Slavery in selected Ghanaian Novels on Slavery"
15.45- 16.00: Break
16.15-18.00: "The Slaves", Play by Mohammed ben-Abdallah, performed by Students from the Department of Theater and Film Studies, Cape Coast University
18.15: Dinner at Campus
January 31, Tuesday
9.00-10.30: Keynote Samuel Okyere (PhD, Senior Lecturer in Sociology, School of Sociology, Politics, and International Studies, University of Bristol, UK)
"Until the lion tells the story, the hunter will always be the hero" – child workers' and marginalised communities' perspectives on freedom and neo-abolitionism"
Chair Emmanuel Saboro
10.30-11.00: Break
11.00-12.00: Session 3: Imperialism, Postcolonialism and Slavery
Chair: Lotte Pelckmans
Philip Kaisary (Canada): "Law and Black Agency in Memories of Abolition: Human Rights and Slavery Movies."
Emil Elg (Denmark): "Representations of Enslavement in Danish Portraiture from the 17th and 18th Centuries"
12.00-13.00: Lunch
13.00-14.15: Session 4: Human Rights for the Future: Education and Technology
Chair: Karen-Margrethe Simonsen
Moussa Traoré (Ghana): "Postcoloniality, Technology and Slavery"
Amos Adekunle Adediran and Oluwamayowa Adisa Adebayo (Nigeria)
"Adult Literacy as a Valuable Tool for Sustainable Human Rights among Part-Time Students of Higher Institutions in Oyo State, Nigeria"
14.30: Trip to Elmina Castle
At Elmina Castle:
William Nsubian Gmayi (Ghana Museums and Monuments Board):
"Elmina Castle: a vestige of African-European Relations on the Gold Coast"
Kofi Anyidoho (Poet, Prof. of Literature, University of Ghana-Legon):
A reading-performance of "Gathering the Harvest Dance".
(A poem originally written on request and performed by Kofi Anyidoho & Hip-Life Artist Obour as part of a major performance event at Elmina Castle commemorating the 200th Anniversary of the Abolition of the Slave Trade Act, under the auspices of the British Council. 2007).
The poem is published in Anyidoho's collection The Place We Call Home & Other Poems.
17.00: Drink at Elmina Hotel
18.30: Dinner at Elmina Hotel
February 1, Wednesday
9.00-10.30: Session 5: Oral and Verbal Memories of Slavery
Chair: Laura Murphy
Boluwatifo Akinro (Germany): "Fictive Kinship and the Vestiges of Slavery in a Yorùbá Town"
Raquel Lima: (Portugal) "Orature and Literature in 'Tafua' from Săo Tomé and Príncipe"
Tunde Awosanmi (Nigeria): "Authoring Slaveries: Slavery and Colonial Slavery in Biyi Bandele's Drama and Prose."
10.30-11.00: break
11.00-12.00: Lotte Pelckmans (Denmark)
Chair: William Nsubian Gmayi
Intro, Screening and Discussion of Documentary Movie (25 minutes)
Working Title: Descent-based Slavery & fugitive displacements:
Neo-abolitionist quests for equality (Gambana) in Mali.
Script and production: Lotte Pelckmans
12.00-13.00: Lunch
13.00-14.00: Session 6: Abolitionism and Religion
Chair: Samuel Okyere
Uche Uwaezuoke Okonkwo (Nigeria): "Christian Missionaries Culpability in Post Abolition Slavery in Eastern Nigeria 1857 to 1956"
Cherisse Francis (UK): "Breaking the chains: a re-examination of religion, race and sex in the Anglophone Caribbean; points of restraint and resistance from Transatlantic Slavery to Trafficking in Persons"
14.00-14.15: break
14.15-15.45: Session 7: Creativity and slavery
Chair: Helen Yitah
Inés García Saillard (Spain): "Beyond the official story: Rebuilding History of Slavery"
Akua Bobson (Ghana): "Trauma & its Manifestations Among Descendants of Enslaved Africans and Descendants of Remnant Africans"
Anne Green Munk (Denmark): "Songs of slavery and freedom – a travel novel and a piece of artistic research in one"
15.45-16.00: Break
16.00- 16.45: Closing session. Publication and future collaboration.
Presentation of plans for publication at Cambridge Publishing House
Participants may briefly present ongoing projects and research centers of relevance to future collaboration
Organization of conference
The conference is organized within the framework of a larger research project with the title Authoring Slavery, hosted by Aarhus University Denmark (PI. Mads Anders Baggesgaard). This collective research project with participation of researchers from Denmark and Ghana engages with contemporary imprints of the complex history of slavery in Ghana, https://cc.au.dk/en/centre-for-the-study-of-the-literatures-and-cultures-of-slavery.
Organizers of the conference are:
Emmanuel Saboro, Senior Lecturer, Centre for African and International Studies, University of Cape Coast, Ghana,esaboro@ucc.edu.gh
Lotte Pelckmans, Centre for Advanced Migration Studies, University of Copenhagen, Denmark (Lotte Pelckmans pelckmans@hum.ku.dk
Karen-Margrethe Simonsen, Associate Professor, Comparative Literature, Aarhus University, Denmark (litkms@cc.au.dk)
The research project and the conference are supported by the Independent Research Fund, Denmark.